An interview with Quppia Kaitak on Teacher Training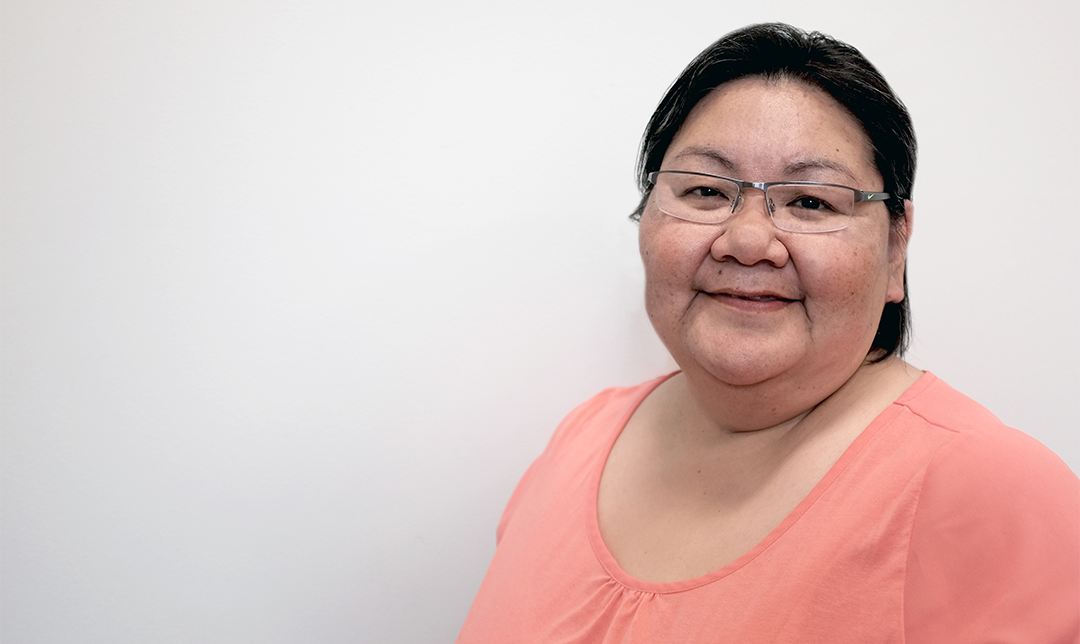 As we gear up for the Teacher Training Summer Institute, joins us in meeting some of the instructors who were facilitating last year's courses. In July 2018, we interviewed Rhoda Ezekiel, Vinnie Baron, Louisa Thomassie, Quppia Kaitak and Caroline Inukpuk. They told us about their role as an instructor, and shared their thoughts about how significant this community of Inuit educators has been for them over the years. Today we meet Quppia Kaitak.
Public Relations: Tell me a little bit about yourself…
Quppia Kaitak: My name is Quppia Kaitak. I am from Salluit.
PR: What do you do at the school board?
QK: I've been with the school board for 19 years now. My son is younger than my career in education! I enjoy working with children and I taught Grade 1 to 4. I also worked as a teacher training counsellor for a while. In February 2018, I was appointed Vice-Principal of Pigiurvik School, in Salluit. It's a role I really enjoy!
PR: At the Summer Institute you are co-teaching the course EDEE 325 Children's Literature, with Louisa Thomassie and a McGill University consultant. What is this course about?
QK: We explore children's books to gain an understanding of how stories are built, so that teachers can develop activities for their students. We use Gustav Freytag's model, a 5-part pyramid, to analyze stories and identify key topics or themes that teachers can use as a basis for a learning activity. The Inuktitut books we use as resources are also not categorized by recommended reading age or grade level. During the course we proposed a set of criteria that teachers will be able to use to identify the most suitable reading material for their students.
PR: What do you want teachers to take away from this course?
QK: I want them to feel confident about the knowledge they gained over the last two weeks. Stories are a fascinating and powerful learning tool. I want teachers to have fun with what they learned, to feel comfortable to try new things in class with their students.
PR: How did you become involved with the Teacher Training program?
QK: Well, as a teacher I first benefited from the program when taking the courses I needed to get my teaching certification, which I got in 2003, along with a Certificate in Education from McGill University. I am now working towards completing a Bachelor of Education with McGill University. I am also involved with the Teacher Training program as an instructor. So far, I taught 3 different courses. This semester, I chose to teach instead of participating in a course as a student. I was interested in the leadership course, but I am truly passionate about children's books. So, I reached out to the Teacher Training team when I saw that they were looking for an instructor for the Children's Literature course.
PR: You chose to teach instead of completing a course you need for your Bachelor in Education?
QK: Yes! Children stories and children books are my passion, and I did not want to miss out on the opportunity to teach this exciting content. Teaching is about sharing knowledge; it makes you grow as a person. The things I have learned over time are grounded in my passion for education. This is why I chose to be an instructor this summer. I also think it's important to build on the things we are passionate about in order to gain confidence as teachers.
PR: What has been your favorite moment during the course you taught this summer?
QK: I just love the moments where we share teaching practices with each other. When the classroom becomes a safe space and participants trust each other, then we can really learn from our peers. I am really happy when everyone feels comfortable to share, receive feedback, reflect on their practices and adjust them. That's what life is about, on-going learning!
PR: As an instructor, what kind of preparation do you have to do prior to the course?
QK:  Preparing the course is a good refresher. You go over notions you know but may not use in your everyday teaching. I enjoy the fact that it gets me thinking about my teaching practices. It's something important that I don't necessarily take the time to do when I am caught up in my daily work. The collaboration with other instructors and the McGill consultants is also an interesting experience. We all have our own approaches and perspectives; finding ways to work in harmony is a stimulating challenge. I would advise all teachers to reach out to the Teacher Training team if they see a course they would like to teach. Just go for it, it's worth it.
PR: As a participant in the Teacher Training program for many years, what did you benefit the most from?
QK: There are a lot of things I could talk about, both at a personal and professional level. I think the courses Inuit Identity and Adolescence and Education had a huge impact on me when I took them. The timing was right in my life. They helped me build my self-confidence, realize who I was, and from there I was able to move forward as a complete person.
PR: How do you keep your motivation as an educator?
QK: When I engage into learning, I feel I am at the right place. I want to continue receiving knowledge from my peers, to travel and learn from others. Learning is a process of constant movement. I am not the owner of the knowledge I gain. This knowledge is going through me and I must channel it back to my students, to my community, so that this knowledge can continue to grow through other people. I am a trailblazer, I am making my own path. Other people can walk into my footsteps or make their own way. What I hope for is to inspire people to go far and pursue their dreams. When others look at me, I would like them to think: "If she can do it, I can do it too". I want my fellow Inuit to stand strong and achieve what they want to. That's what drives me!
PR: What would you tell the next generation of Nunavimmiut about choosing the profession of teacher as a career option?
QK: We have really good working conditions, with long summer holidays! We work hard, but the reward is there: seeing children learn and grow is the best. Nothing beats this!