Habits for Harmony and Resilience in and out of the Classroom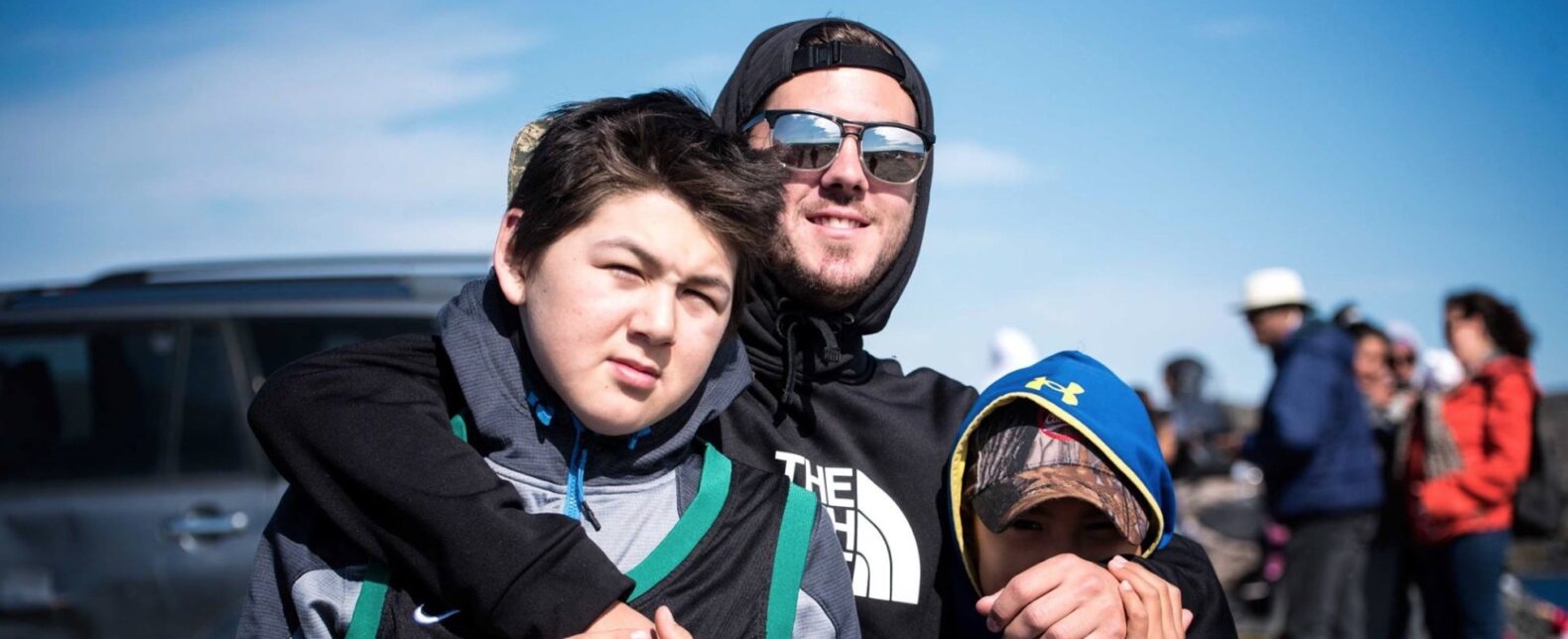 Article by: Diana C. McLaren-Kennedy, Coordinator of Compassionate School Services, Kuujjuaq
It's the first day of school. You glance around your classroom with nervous anticipation, looking over the tables you've arranged to optimize learning, the materials you spent hours organizing for accessibility and efficiency, the door and bulletin boards—bare just days before but now decorated to welcome students and parents. You've studied your students' files. Maybe you were lucky enough to chat with their previous teachers. You've got days' worth of icebreakers and activities planned. If you're a new teacher, perhaps you've finally finished unpacking your boxes, attended a teacher potluck or two, hiked around your village, and taken Insta-worthy photos of the endless tundra. You've joined your village's and school's Facebook groups, know what number to call when you run out of water, and have made your first big food order. You feel at home in Nunavik and now you just can't wait to meet your kids! Relax. B r e a t h e. Be yourself. You're going to have a great first day of school.
In this moment, you're the very embodiment of passion, discipline, compassion, openness, humility, playfulness and presence. Keep those first-day-of-school vibes going from now to June and you are sure to have a fantastic year! This may start to seem like a tall order once you begin to experience the inevitable ups and downs of teaching, culture shock, homesickness, and, well, being human! So, as you embark on this new adventure in life and pedagogy, let the following tips be a reminder that it is the simple habits you practise regularly that culminate in long-term harmony, resilience, and success. Start to think about which habits you'd like to cultivate and try taking baby steps to incorporate them into your daily routine. Be kind to yourself: it takes 21 days to adopt a habit! Read on to learn about six habits that have helped countless Kativik teachers thrive.
Greet your students at the door
Making a genuine personal connection with every student every morning will help you set a positive tone for the day, show your students you care about them, and give you a sense of how each student is feeling when they enter your classroom so you can adjust your activities or accommodate a given student as necessary.
You will notice that students will sometimes arrive in the middle of a lesson. Acknowledge them warmly and show them that you are happy they came to your class. These could well be the students who are most in need of your positive, unconditional support. At some point during the period, make a point of checking in with them for a brief one-on-one conversation.
Think of this habit as making deposits into your relationship bank accounts. By the end of the first week of school, ask yourself if you can name one interest for each of your students. If not, let that be your August challenge.
Call each child's caregiver to share a positive remark
Do this before the second week of school. "Sunshine calls" are a wonderful way to begin to build a trusting relationship with the parents and caregivers of your students. Remember that parents are your allies. You all want the same thing: to see their child succeed—academically, personally, and socially. Your first phone call can greatly facilitate this partnership if you acknowledge the strengths of the student. Does he come to school each day? Does she have great leadership potential? Is he able to make his peers laugh? Does she have a passion for art? Every child has unique strengths—let families know early on in the year that they haven't gone unnoticed.
Some families do not have phones, so you may need to try another form of communication, such as making house visits, writing an email or letter, sending a note home with students, calling family members at work, posting on the class blog or the school or village Facebook page, broadcasting messages on the FM, or using Facebook Messenger (if you use this method, we recommend creating a second Facebook account). Ask caregivers which means of communication they prefer, and talk to your CD about whom you could ask to translate, and whether this would be appropriate for a given household.
Once you've made a sunshine call for each child, keep the lines of communication open. Parents want to be in the loop about what their child is learning, as well as how they are doing academically and socially. Remember the sandwich technique: if you need to call about a challenging topic, start and conclude with some positive news. It is always important to valorize a student's positive qualities and to nurture a sense of shared hope.
Explore what your community has to offer
To truly thrive in your new community, make it a habit to explore your village beyond the walls of your house and school. The beautiful landscape can be experienced in myriad ways throughout the year—boating, skiing, snowmobiling, hiking, fishing, berry picking, and more! Exciting events, such as paraski lessons on the lake, concerts, feasts, Halloween contests (Halloween is HUGE in Nunavik, with enormous cash prizes for creative costumes!), circus workshops, and Christmas games, occur from time to time in all villages. Get to know your colleagues and community members to find people who share your interests. While some villages offer a range of regular activities (including yoga, community-kitchen cooking workshops, kickboxing, soccer, and hockey), others have fewer options, so it may be up to you to create a weekly community activity or after-school extra-curricular. By devoting a couple of hours per week to improving community programming, you will gain a sense of purpose that will sustain you through tougher school days.
Establish expectations with your students
The first week of school is the best time to set up expectations with your students. When setting up your classroom expectations, refer to your school's matrix of values and expectations. Invite students to help you make a classroom version for each of the values in different classroom situations (e.g., when entering the classroom, during independent work, during group work, when the teacher is giving instructions). Make sure you end up with at least five positively phrased classroom expectations. Don't worry about getting it perfect! If any rules prove problematic, they can always be revised as part of a circle discussion later.
Never assume that students know how you expect them to behave in school. Prevent problems by clearly presenting each expectation in each location (even if they seem obvious), modelling through role play, getting students to practise the expectations, and providing consistent feedback. Teaching the expectations and building relationships takes priority over all other curriculum for the first month of school. The investment will save you time and stress down the road! J Throughout the year, you may need to do a few reminder lessons about some of the expectations, and it is always good practice to remind students of the expectations before a given activity.
Pro tip: try using Class Dojo (a free classroom management app) to infuse some fun into your classroom management! Make sure you're mostly looking for positive behaviours and give students many opportunities to earn points throughout the day. Aim for a ratio of 5:1 reinforcement to correction.
Get curious, not furious
When a student's behaviour starts to get on your nerves, see if you can resist the urge to react by raising your voice, punishing the student, or asserting your authority at all costs. Instead, pause and take a few deep breaths. Ask yourself, "What may have happened to this student to have made him learn this behaviour as a way to survive? What is his life like right now? What is the need underlying the behaviour, and what can I do, or what skills can I teach, to help this student meet his needs in a way that will allow others (including me) to meet theirs?"
When you encounter challenging behaviours, you may question your effectiveness as a teacher or criticize yourself if students appear bored or seem to dislike you. Again, pause, take a deep breath, and remind yourself not to take the behaviour personally (as hard as that is!). While it is helpful to reflect on your lessons and interactions so that you can make improvements, being overly self-critical can burn you out and suck the joy out of teaching (and life!). Even master teachers have days when everything seems to go wrong. Give yourself a literal pat on the back for your daily successes. Look for the humour in situations where a lesson or activity doesn't quite go as planned. Think about ways to take better care of yourself each and every day. Do you need an earlier bedtime? More phone calls with your best friend? A 10-minute morning yoga ritual? Fifteen minutes of light therapy each morning? Often, it's just one small habit that can make an enormous difference in your life and improve your ability to plan and respond rather than simply reacting when things get tough.
Just this one habit of pausing, taking a deep breath, and asking yourself what you or your students need can completely change your life.
Seek out support before you need it
Teachers: Your teaching colleagues are perhaps your greatest resource. Sharing ideas and taking turns observing one another are wonderful ways to hone your craft and foster a sense of unity and collaboration at school.
KI Resource Centre: Kativik Ilisarniliriniq has a growing resource centre with over 6,000 print resources on topics related to classroom management, Inuit culture and history, curriculum, and so much more! Check out a book online and receive it by mail. Contact Kim Angatookalook, or browse the catalogue here: https://www.kativik.qc.ca/employee/library-services/
Professional Development: It takes you five minutes to walk (or drive) to work, the store, the gym, and your new best friend's house. You settle into the slower pace of life in the North and suddenly realize that you've gained hours of free time that you used to spend commuting. Why not spend this extra time taking a course? All KI teachers are eligible for reimbursement of up to $2,000 towards relevant course fees. Online courses can help you gain skills, knowledge, and confidence, as well as provide a wonderful professional networking opportunity. If you've been teaching at KI for at least a year, you can apply to attend a conference as well! If you're approved, KI will reimburse flights to Montreal, plus $2,000. We highly recommend you check out the following:
PBIS (Positive Behavioural Interventions and Supports): Celebrating Positive & Safe Learning Environments

October 4–5, 2018; Hilton Chicago; Chicago, IL, USA

IIRP (International Institute for Restorative Practices) World Conference

October 24–26, 2018; Crowne Plaza Downtown Riverfront; Detroit, MI, USA

Northwest PBIS Network Conference

February 28–March 1, 2019; Oregon Convention Center; Portland, OR, USA

Attachment and Trauma Treatment Centre for Healing Conference (no registration information available at time of writing)
Mindful Life Conference (no registration information available at time of writing)
Employee and Family Assistance Program:

homeweb.ca 1-800-663-1142 or TTY 1-888-384-1152
Short-term professional counselling, family support services, legal support services, financial support services, naturopathic services, health coaching, specialized counselling, and online programs
Free and confidential for KI employees and their dependents!

CS Team: Need help integrating a new habit or routine? Do you have an idea for your classroom and want some support? The Compassionate Schools Team is here for you! Reach out to your Compassionate Schools Pedagogical Counsellor or Compassionate Schools Resource Teacher with your questions, concerns, and wonderings; to inquire about our resource library in your school or our digital toolkits; or to schedule a classroom observation and feedback session. We can't wait to meet you J.
We wish you the best of luck in finding the habits that work best for you. Have an awesome year!!
If you have questions or would like to discuss any of the approaches recommended here, or if you need support implementing the compassionate school approach in your classroom, get in touch with a member of our team:
Diana McLaren-Kennedy (Coordinator)
Maxime Rousseau (Education Consultant – Compassionate Schools)
Dr. Brenda Linn (Education Consultant – Compassionate Schools)
Catherine Hallé (Education Consultant – Compassionate Schools)
Jess Dean (Education Consultant – Compassionate Schools)