A Conversation with Chef Susie Sakiagak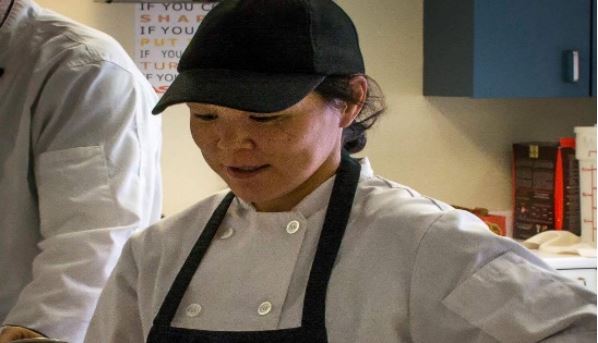 Susie Sakiakag is an alumni from the Professional Cooking program, which is offered by Adult Education and Vocational Training in Inukjuak.
What is À la rencontre des grands chefs ?
Susie Sakiagak (SS) : À La rencontres des grands chefs is an event that brings together eleven renowned chefs from Quebec and eleven Aboriginal Chefs from Quebec to collaborate together and create dishes inspired by the eleven Aboriginal communities. In order to show the richness of the Aboriginal communities in Quebec, each of the renowned chefs travels to meet with local chefs and draw inspiration from the community to create a new recipe influenced by their visit. Together, with the help of the selected chefs from each region, they created a dish that represents their culture, their food and their life.
When and where this did event take place?
S: The event took place between September 2nd and September 3rd at the Fairmont Le Chateau Frontenac.
Who where you cooking for?
The event was open to the public. It gave people the chance to come discover and taste different dishes from the eleven communities represented. People had the chance to explore and learn more about the culture and history of the Eleven Aboriginal Nations part of the event.
How did you feel when you were chosen to be a part of the event?
I felt a bit nervous and unsure about what to expect of the event or what it would be like to cook along such a renowned chef. It was nice to have support from my friend Annie Mannuk Nalukturuk (also selected); we helped each other.
What is the Chef you cooked alongside?
S: Stephane Modat, Le Champlain and Bistro Sam restaurant
What dish did you serve?
S: We served arctic char with suvalik on top of the fish and fried lichen.
So you're an Alumni of Adult Education and Vocational Training I hear?
S: Yes, I graduated in December 14, 2016 and finished my work placement in January.
How was the cooking program offered by Adult Education and Vocational Training?
S: It was great, I loved it. I learned so much about myself. I used to think I knew how to cook, but I soon realized there was a lot more I could learn.
What did you learn from the cooking program?
S: I learned how to be a better cook. I love cooking and it taught me so much. It really helped me a lot. It changed my life, it helped me feel more confident, become a better cook and people are generally a lot nicer to me now.
What would you tell someone who is thinking of going back to school or taking up the course?
S: To just do it! It's amazing. Sometimes you feel like giving up because it can be hard to be away from your family and friends, but just keep going. At the end of it all, it's worth all the hard work.
What's your chef specialty?
S: Caribou, I make anything I like with that meat.