An interview with Caroline Inukpuk on Teacher Training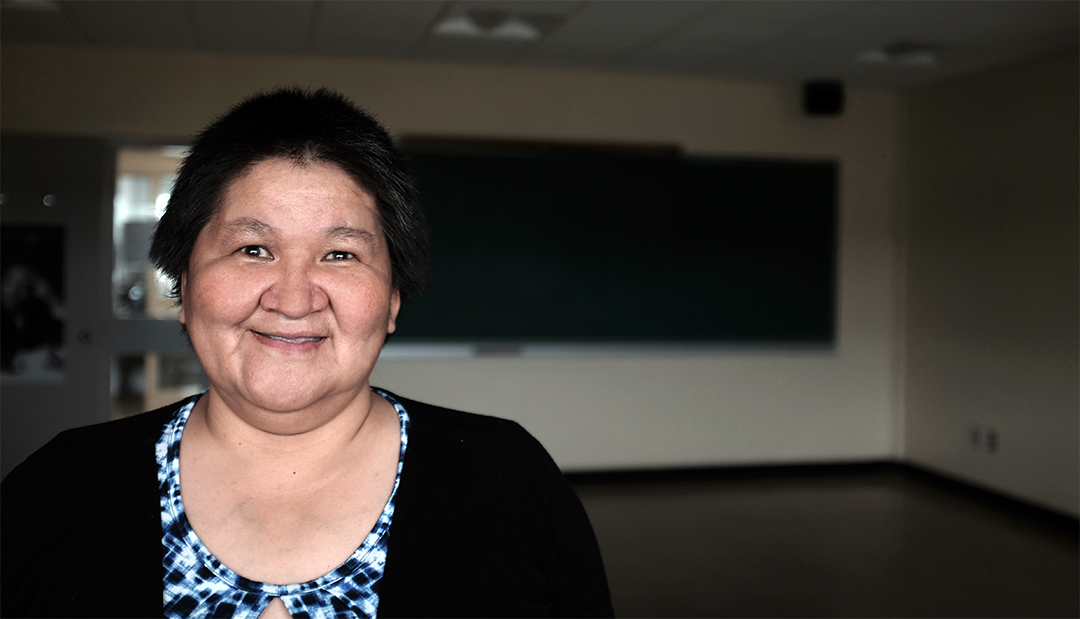 As we gear up for the Teacher Training Summer Institute, join us in meeting some of the instructors who were facilitating last year's courses. In July 2018, we interviewed Rhoda Ezekiel, Vinnie Baron, Louisa Thomassie, Quppia Kaitak and Caroline Inukpuk. They told us about their role as an instructor, and shared their thoughts about how significant this community of Inuit educators has been for them over the years. Today we meet Caroline Inukpuk.
Public Relations: Tell me about you and where you are from…
Caroline Inukpuk: My name is Caroline Inukpuk and I am from Inukjuak. Prior to working with the school board, I was working as a cashier with The Bay, before it became the Northern Stores. Then I worked as an interpreter for deaf students for two years. After that I became a teacher. I taught Grade 2 for a long time and then Grade 4, 5 and 6. I also worked as a Teacher Training Counsellor. When I returned to teaching, I taught Inuktitut to Secondary Cycle 1 students. Right now, I am working as an Inuktitut teacher for Secondary Cycle 2 students. So, I really know all the students!
PR: Which course were you teaching this summer?
CI: I was teaching Language Arts. In this course, teachers were for example learning how to make books with engaging stories, to help students develop their language skills. We introduced various digital tools and resources that can be used for that purpose.
PR: Is there anything specific you will remember from this course and this group?
CI: I like the moments when teachers are really trying to use the tools we introduce. If they give it a try, it really helps them to learn and they will probably use some of it in their classrooms. From this course, I will also remember the good laugh we had when listening to a song in class. There was a very funny misunderstanding with some of the lyrics of the song…
PR: What would you like teachers to take away from this course?
CI: I hope teachers will use what they learned with us over the past two weeks. That they will try it in their classroom. Some will do for sure. Usually, when I see them again during other courses offered by the Teacher Training program, some teachers give me feedbacks on how it went when they experimented with the things they learned. It's always great to hear their comments and thoughts on what they learned and how they used it with their students.
PR: This was not your first time being an instructor with the Teacher Training program, right?
CI: That's correct. I have been teaching many times for the summer courses and for the winter sessions too. Usually, I teach Intermediate Inuktitut Grammar. It was my first time teaching this course. The content is very different from what I normally teach. I will be more comfortable with the content next time. I enjoyed the challenge this time around.
PR: What kind of preparation did you have to do before giving this course at the Summer Institute?
CI: We get a week of preparation, with the two instructors and the consultant who's providing support. This planning week was very useful.
PR: You also are a graduate from the teacher training program, right?
CI: Yes, I have a Bachelor of Education from McGill University. I graduated in 2014.
PR: What was the most important thing that you gained from your involvement in the Teacher Training program?
CI: For me? Well, as a teacher at Innalik School, I am really attached to the students. I want them to succeed. They all have very different talents. I want to enable them to discover these talents, so that they can develop them fully. So, the first time I worked as an instructor with the Teacher Training program, this where I was coming from. I thought it was going to be very difficult to teach other teachers, I thought they would know more than me. But when I was teaching the Intermediate Inuktitut and the Orthography and Grammar courses, I discovered that adults are exactly the same as teenagers when they are learning! It's really fun! When they understand something you teach them, when it clicks, they get really excited and are working hard to succeed. I love it! It's the best moment! It was really interesting for me to realize that the way adults and teenagers engage in learning is the same. This understanding is something I gained from the Teacher Training program. The other thing I gained is a sort of family. I am really attached to the other teachers, they are like friends and relatives. I have known them for a long time now and we share good moments during the teacher training courses. I gained a network of fellow teachers from all over Nunavik, who are very close to my heart.
PR: What would you tell the next generation of Nunavimmiut about choosing the profession of teacher as a career option?
CI: I always tell my students that they can do anything they want. If someone is interested into something, they can teach it. If you think you are interested to become a teacher, go for it!