An interview with Louisa Thomassie on Teacher Training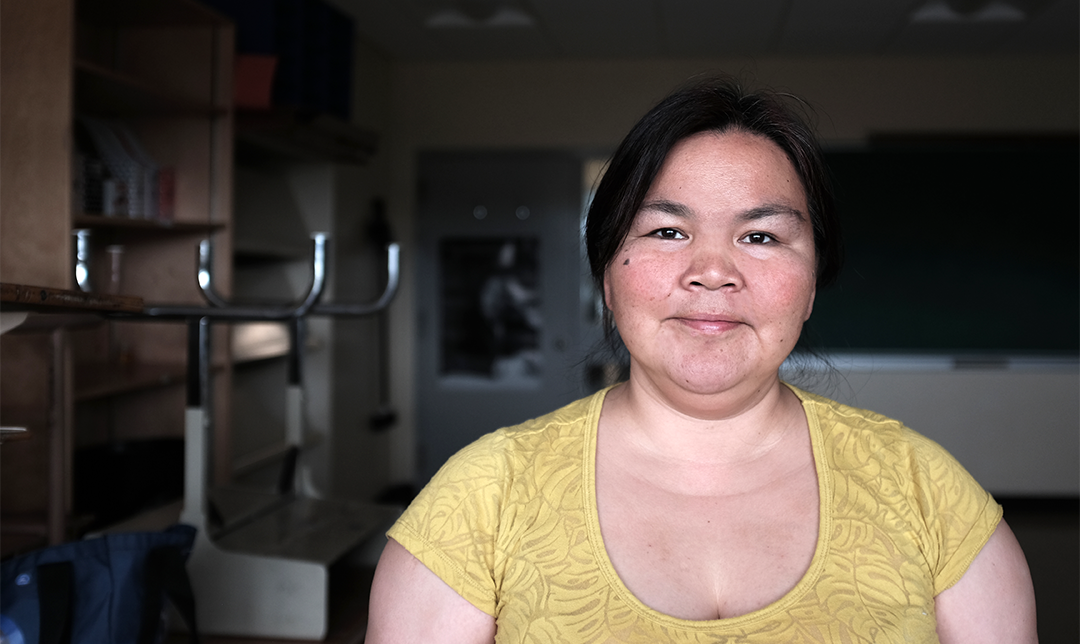 As we gear up for the Teacher Training Summer Institute, join us in meeting some of the instructors who were facilitating last year's courses. In July 2018, we interviewed Rhoda Ezekiel, Vinnie Baron, Louisa Thomassie, Quppia Kaitak and Caroline Inukpuk. They told us about their role as an instructor, and shared their thoughts about how significant this community of Inuit educators has been for them over the years.  Today we meet Louisa Thomassie.
Public Relations: Tell me about you and where you are from…
Louisa Thomassie: I'm Louisa Thomassie and I am from Kangirsuk. I work at Education Services, as a curriculum developer. I am responsible for the high school history program. Concretely, my job involves integrating more indigenous content into the Quebec history program. I am also working on the development of a Nunavik history text book, in partnership with the Avataq Cultural Institute.
PR: What course were you teaching at the Summer Institute?
LT: I was teaching the Children's Literature course. The objective of the course was for teachers to recognize the different levels and the different types of reading material that students can learn from. Depending on the student's metacognition, different learning strategies we can be used by teachers. For example, one student may learn from reading a novel, while another will learn from reading a comic book. During the course teachers had the opportunity to explore different types of reading material, to identify what is suitable for a given student or a specific age group. There are many activities that can be developed based on books and stories. So, we also worked on that with the teachers.
PR: What would you like teachers to take away from this course?
LT: I would like teachers to have learned to recognize the most effective teaching strategies they can use for specific students or for specific grades. It's important for teachers to be effective in identifying whether their students are weak, average or advanced learners and to know what works and what doesn't with their students.
PR: Is there anything specific you will remember from this course?
LT: We had a group of very experienced teachers. We could sense that they already have strong classroom management skills. They were able to compare different grades and levels. There was a lot of knowledge transfer happening. I enjoyed the fact that even though everyone was serious about learning academically, we were able to have fun. There was a lot of humour with this group of teachers. I remember an afternoon where after having preached about the importance of being well prepared and professional, I used a story to demonstrate a narrative pattern. But the pages of the book were in the wrong order and got completely confused! We had a good laugh!
PR: Was it your first time teaching with the Teacher Training program and why did you decide to become involved?
LT: Yes, this was my first experience as an instructor with this program. I wanted to integrate more of the Quebec education program into the content of this course. So, I incorporated the competencies related to reading and writing, with the objective that teachers would be able to refer to these when planning their lessons. I also taught Inuktitut literacy for 13 years and when I studied at McGill, English Literacy was my subject for four years. So, I wanted to bring my experience to the Teacher Training program, and to learn from other teachers.
PR: You graduated from McGill University with a Bachelor of Education in 2017, right?
LT: Yes.
PR: What would you tell the next generation of Nunavimmiut about choosing the profession of teacher as a career option?
LT: I find that education is the best investment. I always say that learning does not expire and it has no limits. We can relearn the things we have forgotten, we can also integrate traditional knowledge and advance academically. There are also different roles in education. Not everyone can teach, you really have to know yourself as a person and be willing to receive everyone as they are, to help them develop their skills. I also think that if we are not happy with our education system, we cannot simply be the audience. We have to get involved and see what we can do to help improve it. We need to be part of the learning community, as a community, not in division. In my view, getting involved in education is one of the best choices a person can make!