Drilling industry welcomes five new certified Nunavik workers thanks to training offered in partnership between Avataa Rouillier Drilling and Kativik Ilisarniliriniq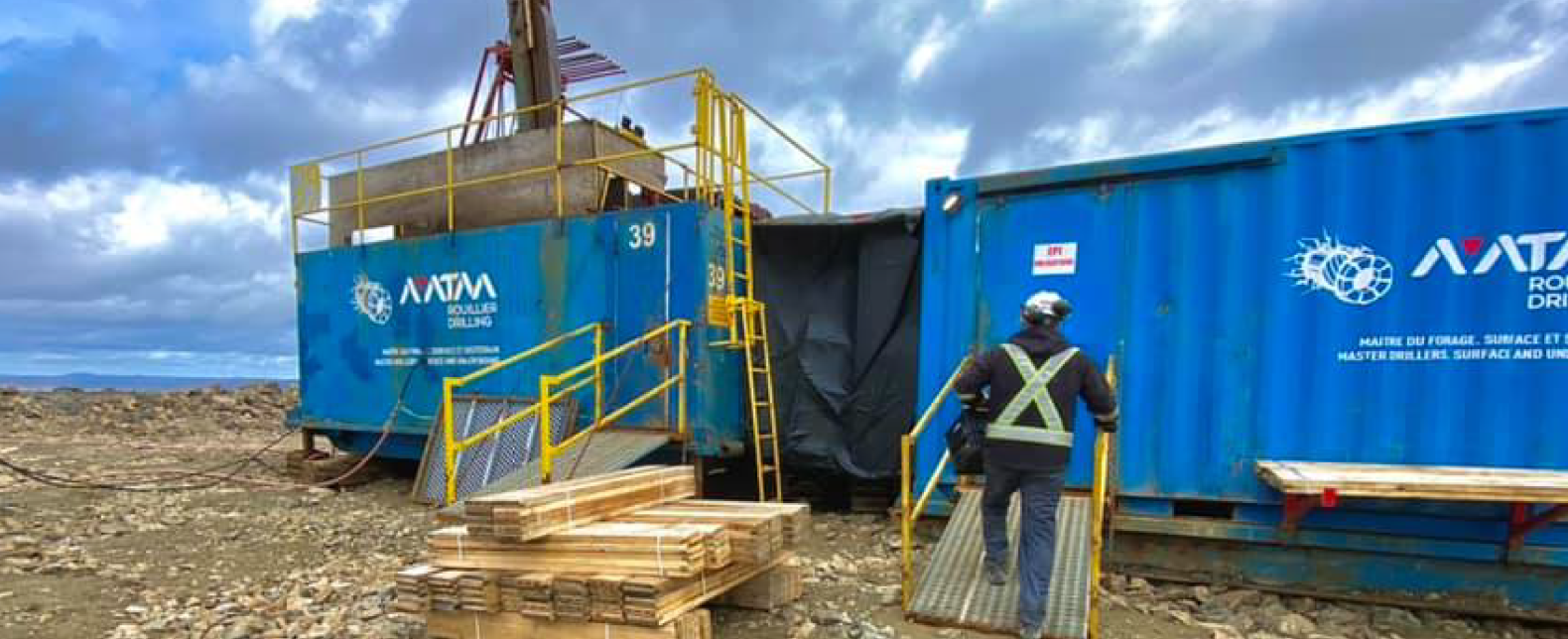 PHOTO: Avataa Rouillier Drilling

Kuujjuaq, December 19, 2022. — Avataa Rouillier Drilling and Kativik Ilisarniliriniq are proud to announce that the first five students of a new vocational training program (DVS) offered in Nunavik have successfully completed the program of study. In the current context of a shortage of qualified workers, and where it is difficult to attract young people, and where the workers already employed are getting older, it is important to celebrate this great accomplishment. Congratulations to these new graduates who have already entered the job market!
Strongly involved with the next generation of workers and Inuit communities, the Rouillier Group joined forces with Avataa Rouillier Drilling and Kativik Ilisarniliriniq to set up a training program through which students can acquire the knowledge they need to start a career in the drilling industry. Together, these partners have mobilized all the necessary resources to promote the hiring of workers from the communities of Quebec's Far North, which contributes to the development of the local economy.
"The partnership with Avataa Rouillier Drilling is a success on every front. It allows us to offer training leading to a DVS, with a 100% placement rate for graduates. Learning is hands-on and the retention rate of our first cohort is also noteworthy: all the students who enrolled have completed the training with flying colours," said Mamadou Diop, Director of Adult Education and Vocational Training at Kativik Ilisarniliriniq.
"Three years ago, we obtained the ECOLOGO® UL 2724 certification for service providers in the mining exploration sector. Today, it is even more concrete through the selection and training of local workers in order maximize economic benefits and promote community development." — Mario Rouillier, Vice-President at Avataa Rouillier Drilling.
Special thanks go to our precious collaborators, without whom this training would not have been possible: CSMO Mines, Mine Raglan, Charlie Watt and Christine Nakoolak from Avataa Rouillier Drilling and trainer Richard Brassard.
Registration for the Diamond Drilling program
A second cohort of students is currently being recruited for training beginning in May 2023. For information about the program or to register, please visit:
https://www.kativik.qc.ca/en/vocational-training/diamond-drilling/.
About us:
Avataa Rouillier Drilling, a division of Groupe Rouillier, has been offering complete diamond drilling solutions in Nunavik since 2015, in partnership with Inuit communities.
Kativik Ilisarniliriniq was created in 1975, under the James Bay and Northern Quebec Agreement (JBNQA). Since 1978, it has been the exclusive provider of academic services to the population of Nunavik. The school board operates 18 primary and secondary schools, as well as 6 adult education centres. More information can be found at: www.kativik.qc.ca
– 30 —
Source and information:
Avataa Rouillier Drilling
Sébastien Roy
sebastien.roy@rouillier.ca
418-780-5391, ext 208
Kativik Ilisarniliriniq
Jade Duchesneau-Bernier
Communications Coordinator
514-797-8220 (cell) or 1-800-361-2244, ext 309
publicrelations@kativik.qc.ca