Kativik Ilisarniliriniq Graduates Its Largest Cohort of Heavy Equipment Operators to Date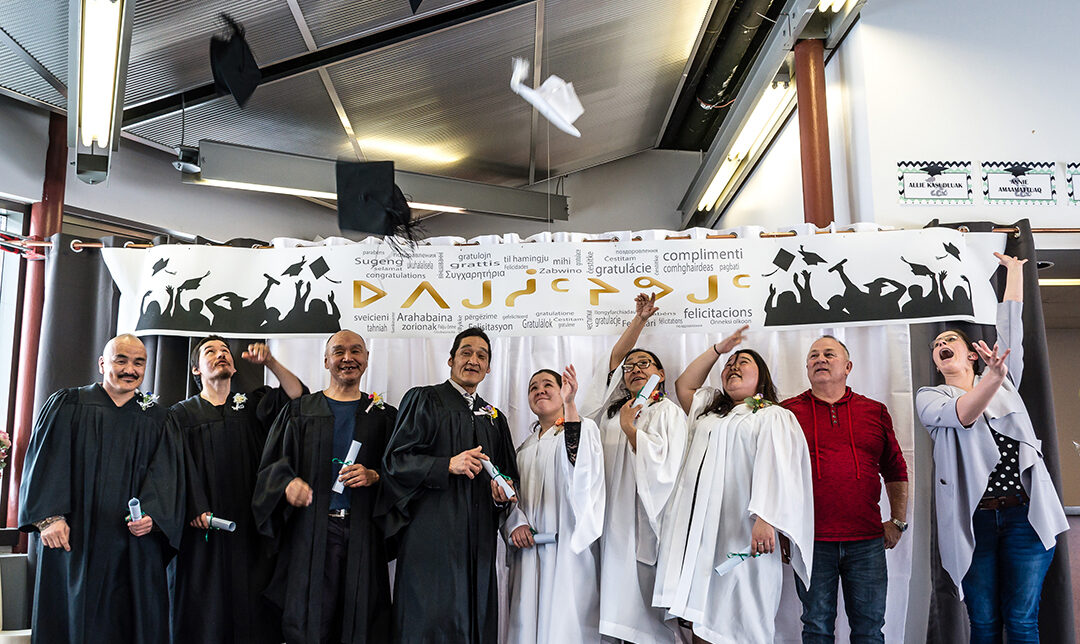 The School Board is proud to announce the recent graduation of 12 students who completed 900 hours of training as part of the Heavy Equipment Operator Program offered by the Adult Education and Vocational Training department.
"This is the largest cohort we have graduated so far," noted Dave McMullen, Director of the Adult Education and Vocational Training department. "The knowledge and skillset these students persevered to acquire represent a great asset for the Nunavik job market," he added. A graduation ceremony was held in Inukjuak on March 15 at the Nunavimmi Pigiursavik Adult Education Centre.
There are many employment opportunities in the private sector and Northern Villages for graduates of the Heavy Equipment Operator Program. We spoke with Elaisa Uqittuq, Supervisor of Inuit Recruitment and Training at Canadian Royalties, and she confirmed that graduates from the HEO Program are excellent candidates for employers in the mining industry. "At Canadian Royalties, we are always interested in recruiting workers who have completed this program," she said.
"Heavy equipment operation is a predominantly male profession. I am particularly pleased with how successful we have been in attracting and graduating women since we started offering this program," said McMullen. Out of this year's 12 graduates, two are women. "The first time we collaborated with the School Board was to offer driver's licence upgrades to workers with a Class 5 licence. Half of those who registered in the training were women," recalled Uqittuq. She stressed that for those already working in the industry, getting a Class 3 or Class 1 licence can make a big difference in improving their salary and working conditions. "I really encourage women to think about the profession of heavy equipment operator. Give us a call if you are curious or interested in working in this field. We are always recruiting for current or future positions," said Uqittuq.
The Heavy Equipment Operator Program is comprised of 18 modules, taught over three consecutive terms. This year, the program was hosted by Inukjuak, Aupaluk, and Kangiqsualujjuaq partner communities between May and November 2018. In addition to hands-on learning, instruction is also provided through the use of a simulator. This technology allows students to familiarize themselves with the equipment before operating it in a real-life environment.
The Heavy Equipment Operator Program has been available for the past five years as part of the Adult Education and Vocational Training department's customized training service offering. The program was created in response to interest from Nunavik organizations and employers and receives significant financial support from the Kativik Regional Government (KRG). Since the 2014–2015 school year, a total of 55 Nunavimmiut have graduated from this program.
For more information about the HEO Program, visit our website.