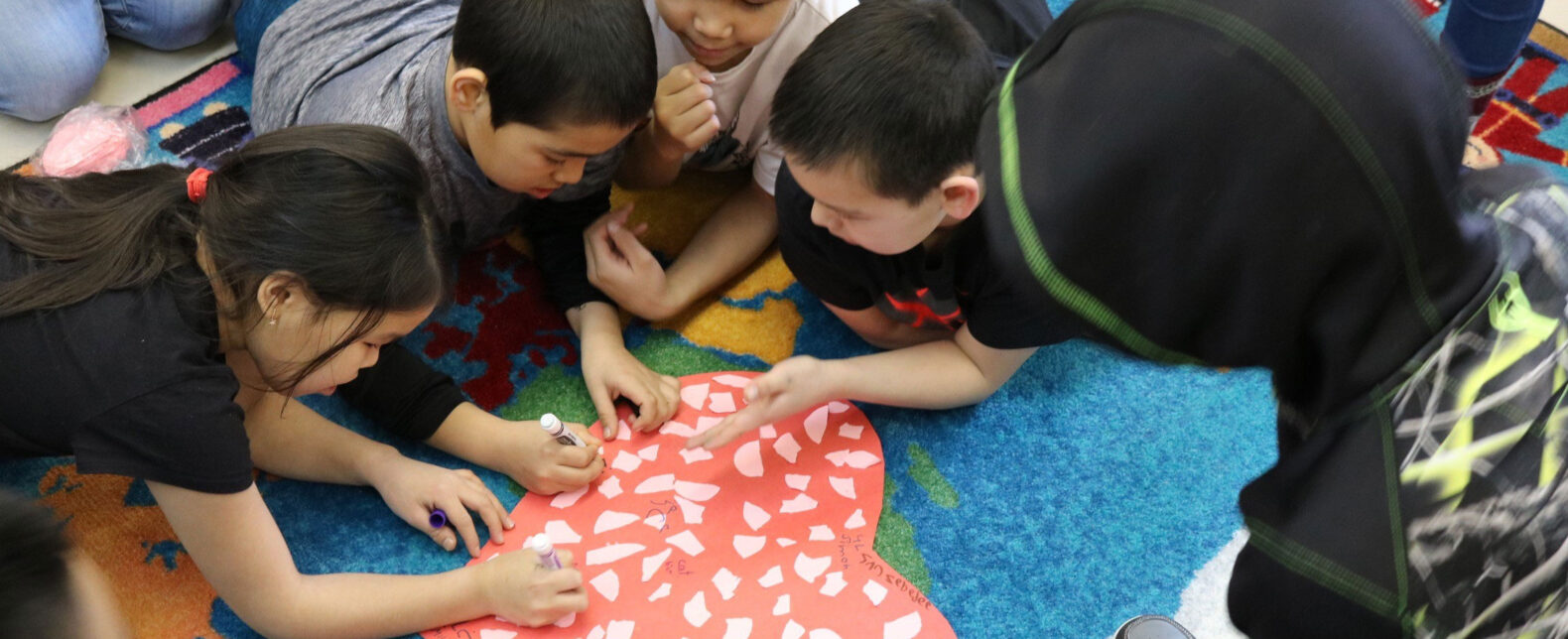 On February 28, schools across Nunavik joined in solidarity against bullying by wearing pink shirts and participating in various activities to promote kindness. Pink Shirt Day all began when David Shepherd and Travis Price, two teenage boys in a small town in Nova Scotia, organized a protest to stand up for a new kid at their school who was getting bullied for wearing a pink shirt. David and Travis showed up at school with plastic bags filled with pink shirts and handed them out to kids as they walked in the door. When the bullies saw all the support for that student, the bullying stopped!
The Kativik Ilisarniliriniq (KI) Compassionate Schools Team of resource teachers and pedagogical counsellors decided, during a November meeting in Kangiqsualujjuaq, to join forces with Cynthia Gaudreault, the KI Bullying Prevention Pedagogical Counsellor, and challenge all schools in Nunavik to carry on the message of David and Travis: "a kind gesture can go a long way, and that together we can make a huge difference!"
The Compassionate Schools Team and Cynthia Gaudreault launched a challenge composed of three steps. Step 1: encourage everyone to wear a pink shirt to symbolize kindness towards others and take a stand against bullying. Step 2: try an activity from our suggestion list (a parade, a kindness challenge, and/or a circle discussion). Step 3: send us a photo from the day in solidarity against bullying in KI schools and Nunavik communities.
KI staff and students really delivered, with their outstanding creativity, teamwork, perseverance, and commitment to this cause. Check out what all the schools were doing to promote kindness and put an end to bullying across Nunavik!
Iguarsivik School's Compassionate School committee distributed some pink headbands to all staff members so they could present themselves as a united team supporting the well-being of their students. During the day, everybody participated in the Random Acts of Kindness challenge.  Some students made a short video with the help of a couple of teachers. The video was presented to the entire school during an assembly where they also talked about the kindness acts they had done during the day. The day ended with Kindness Games; the winners of the games gave their prizes to a friend or someone they appreciate.
Uluriaq School had a kindness/respect/anti-bullying door decorating contest from Kindergarten to Secondary 5. Student counsellors offered workshops on how to be a good friend. Students participated in a kindness challenge with a choice of 10 kind actions to do. The week continued with an anti-bullying movie, and a short bullying prevention movie featuring the puppet, "Bob", and Uluriaq staff and students. On the last day of the week, students gathered in the gym to draw names for a prize to conclude the kindness challenge!
Ajagutak School students discussed the story behind Pink Shirt Day with the student counsellor. Youth Fusion animators, teachers and other school staff, the commissioner, the daycare and three police officers all joined the students as they took to the streets in the afternoon and paraded around town to promote kindness and to declare that bullying is not OK.
Jaanimmarik School primary students wore pink. Grade 5-6 students showed us how sweet they can be with cupcakes made from scratch, topped with mini kindness messages, that they distributed to people who had been good to them. During the second annual Jaanimmarik anti-bullying rally, everyone enjoyed games, touching testimonials, music and prizes!
Sautjuit School Cycle 2 students did a presentation for the primary students on cyber bullying. Primary classes did scavenger hunts. Students also created posters in their "iligit groups". Iligit groups are created to help mix together kids and
teachers in the school. It's a great way for students to bond together and work towards a goal together as a team. The older students serve as role models for the younger ones. Staff and stud
ents from all grade levels are divided into these iligit groups, or family groups, each with its own animal. The school community members get into their iligit groups on a regular basis to organize activities and bond together.
Isummaqsavik School students and staff made friendship bracelets to show kindness and prevent bullying.
Asimauttaq School staff and students joined together with community members in a circle outside to talk about bullying and kindness while connecting with nature.
Kiluutaq School invited guest speakers to talk to students about conflict resolution and healthy relationships. Students and staff were encouraged to wear either pink garments or their anti-bullying shirts. Students were celebrated during a special student recognition ceremony.
Ikusik School staff and students wore custom designed pink t-shirts with a logo on the front and back designed by two students. Each teacher did some activities with his or her class to discuss bullying, followed by all students signing an anti-bullying contract. Afterwards, everyone went outside and had a 3-legged race to encourage cooperation and teamwork. It was great to see so many smiling faces and students taking a stand together against bullying. Ikusik School hopes to do a Pink Shirt activity once per month to build a strong school community that stands together against bullying.
Arsaniq School did an activity for K-Secondary 5 about emotional baggage and how someone can feel weight on their shoulders when they are experiencing bullying. Mark Adams was their model and the students added books to make his backpack heavier.
Tarsakallak School planned an activity called, "50 ways I can be kind at school." Each student wrote a way to be kind to others on a post-it note and then all notes were posted on a bulletin board for everyone to read.
Pitakallak School students and staff were invited to wear pink shirts. This started a dialogue about simple actions that can create harmony and unity (two of Pitakallak's values).
Innalik School did their Pink Shirt Day on February 14th – Valentine's Day – to help spread the love throughout the school. The entire week was devoted to the theme, "Love is Louder." Youth Fusion and the SSP visited all classrooms to do anti-bullying workshops with the students. Students and staff also painted a huge tree in the lobby with the slogan, "Together We Can Make a Difference." From the tree, students hung pink hearts.
Pigiurvik School classes each painted a t-shirt with anti-bullying words and images.  The younger children talked about bullying with Annie, the student support professional.  The older children listened to a story about Charlie, the pink elephant, and how Charlie's friends protected him from bullying by colouring themselves pink as well.
Education Services – Kuujjuaq
Employees recognized that bullying is not just an issue facing children and youth. As adults, we must also stand up for one another and practice kindness. An atmosphere of teamwork and caring permeated the office as directors, ped. counsellors, office agents and others all joined in solidarity by wearing pink shirts.
Nakurmiik to everyone across Nunavik who joined us in promoting kindness and sharing the message that bullying is not OK. We can all do our part to be kind to one another each and every day.