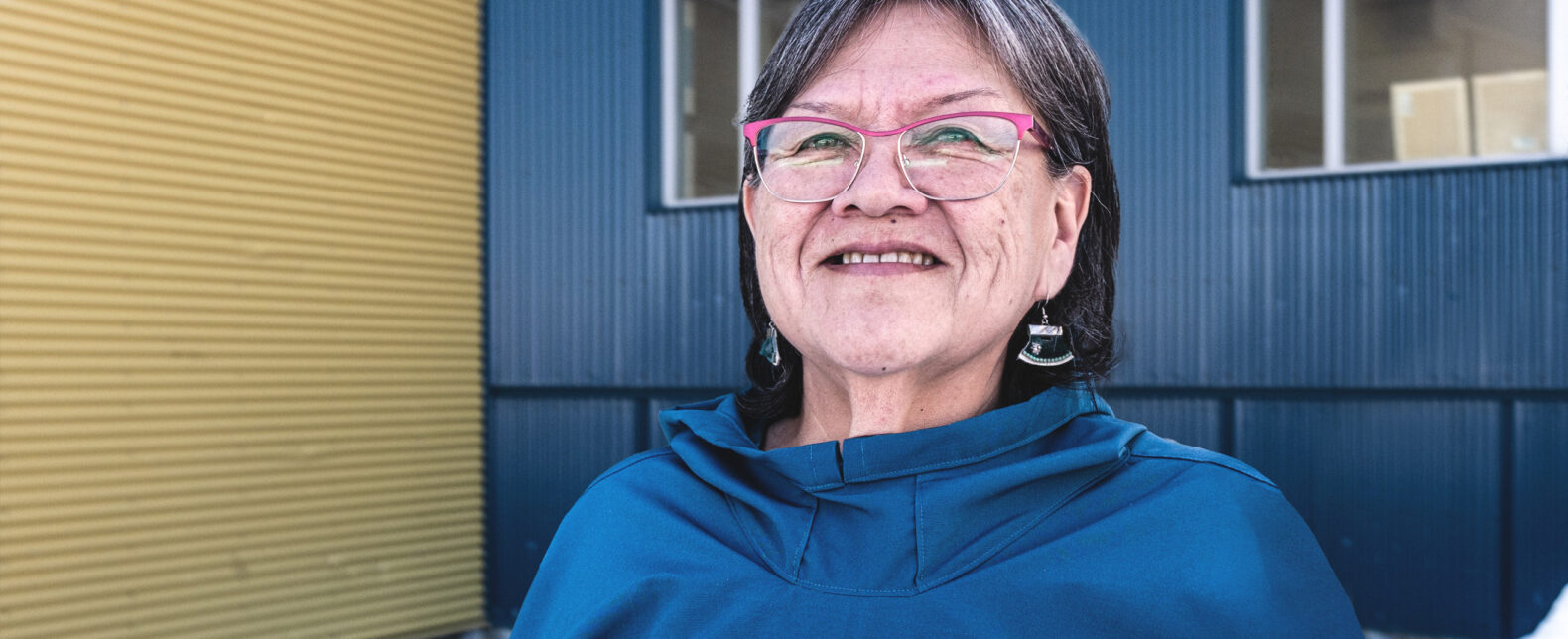 Sarah Aloupa, President of Kativik Ilisarniliriniq © Jade Bernier
Fall is a time to reflect, both on my mandate as president of the Council of Commissioners and on the work of the Kativik ilisarniliriniq during this period. The last years have been marked by change and transition; turning the page on Covid-19, contesting Bill 96, pushing for academic autonomy and improving the working conditions of our staff are among my biggest accomplishments.
Putting COVID-19 behind us
As for the rest of the province, the pandemic caused a discontinuity in educational services. With an inadequate telecommunications infrastructure, the challenges were daunting. Nevertheless, all sectors came up with innovative tools, platforms and resources in Inuktitut to circumvent the lack of broadband internet in the region. We are committed to making every effort to guarantee the development, perseverance and success of Nunavimmiut.
Bill 96: Accessibility and success
The obstacles and barriers to the success of Nunavik students are many and systemic. Bill 14 (formerly Bill 96) is no exception; it added additional graduation requirements for Nunavik Inuit who have chosen to pursue their college education in English.
In this regard, Kativik Ilisarniliriniq (KI) partnered with other organizations and asked Premier Legault, for an exemption for all Inuit students enrolled in college programs in Quebec. To date, our advocacy efforts have fallen on deaf ears.
Academic perseverance and autonomy
Year after year, Nunavik is enriched by the leadership, expertise and affirmed cultural identity of a new cohort of graduates. Since its launch in 2017, the Nunavik Sivunitsavut program continues to support academic perseverance at the post-secondary level. The benefits of approaching post-secondary education through the lens of Inuit culture and circumpolar history have also brought a new momentum to conversations on the need for a post-secondary institution in Nunavik.
KI launched a series of consultations in April 2023 to clarify the Nunavummiut's vision for a post-secondary institution in Nunavik. The exact form of this new institution has yet to be determined, but it is still an exciting moment for Nunavik.
New collective agreements
Equal benefits are key to recruitment and staff retention. They are also essential to attracting new players to our organization. In 2022, we made an important step forward in closing the gap between the working conditions of staff hired locally (the vast majority of whom are Inuit), and those recruited from outside Nunavik.
That said, KI has given itself the means to offer benefits that go beyond those enshrined within the renewed collective agreements of its teachers, support staff and professionals. Our desire is to be an employer of choice for the workforce of Nunavik.
Election of Council of Commissioners
The elections for the next council are fast approaching. Please consider running for commissioner in your community. I also invite voters to take part in this important democratic process.
This is a chance for all Nunavimmiut to take ownership of the tools that will sculpt the education system of tomorrow.
Sarah Aloupa
President